Preschool​
Bible stories, discussions about God, and Christian morals and manners are the foundations of our preschool's religious program. The Preschool is operated as a Ministry of Pleasant Valley Baptist Church.
Pleasant Valley Baptist Preschool
Learning about Jesus
Pleasant Valley Baptist Church Preschool is a safe place for children to learn and grow. Our preschool educational program provides language arts, stories, dramatization, and discussions on health, safety, social living, and large and small muscle development activities. Pre-math, pre-reading, pre-science, pre-
writing, cooking and art activities are part of our daily work program.
The extended daycare program offers school-age children opportunities to enjoy after-school activities including homework help, arts and crafts, and indoor and outdoor games and play. This is a place for them to unwind, relax and feel safe.
It is governed by the church and the employees answer to the church.
These objectives are to be accomplished in a loving, nurturing, and safe environment.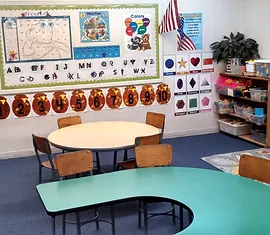 Our teachers have a combined experience level of 90 years, with an extremely low turnover in staff. They bring their love for children and learning with them each day, and are truly a blessing to the preschool with their hard work for the ministry.
Adult-to-child ratios are strongly respected at Pleasant Valley Baptist Church a Colorado Springs Preschool and Childcare facility. Each age group is equipped with a qualified lead teacher and age-appropriate activities to help
the children explore their world each and every day. There are 4 different groups and different learning opportunities. Each class works with the Zoo-phonics program. Introducing phonics and making them a part of everyday living. We also use the Storybook Journey and teach children the love of literacy.
A new book or books are chosen each week with an emphasis on enjoyment and reading for fun. Art and academics are intertwined with activities from the books, making them come alive for the children.
We also work off a weekly theme, sharing ideas of the glories of nature and animals and people and places in the world around us. Bible stories and discussions are an important part of our day. We also believe playing is a child's work and ample opportunity is given to just "be a kid".